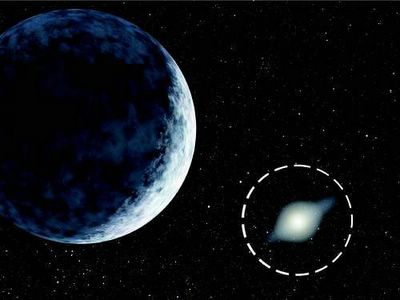 It

isTime to change our General Science again.


On July 29 (local time), the National Aeronautics and Space Administration (NASA) released a conceptualization of the planet catalogued as

2003UB313

, a source of controversy over its status as the

10th planet in the solar system

. The object is farther away than Pluto, consists of ice and rocks, and is about 17 billion km away from the sun. The newly-found planet is bigger than Pluto, which is 2,274 kilometers in diameter. If verified as a planet, the object first spotted by Mike Brown, a Cal Tech planetary scientist, will become the tenth planet following Pluto, which was found in 1930.
http://english.donga.com/srv/service.php3?bicode=060000&biid=2005080118488
http://www.taipeitimes.com/News/front/archives/2005/07/31/2003265757

Tags : Xena , Knowledge , 10th Planet